Zhang Ziyi back to work after giving birth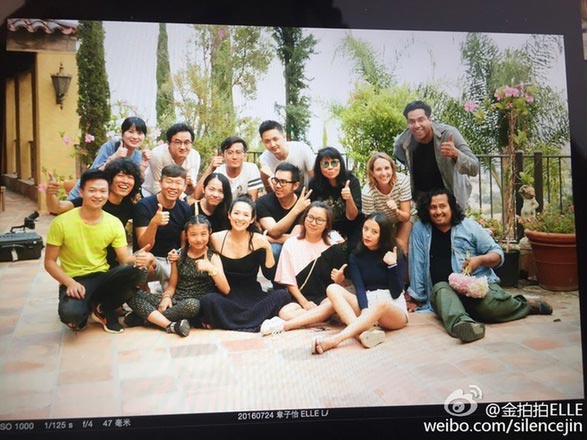 A group photo shows Zhang Ziyi (front row, second from left) and her stepdaughter (front row, left) with a crew in Los Angeles on July 24. [Photo/Weibo.com]Chinese actress Zhang Ziyi has gone back to work after an absence of more than a year, during which she got married and gave birth to a baby girl.
On July 24, editors and crew from ELLE China published several photos of Zhang doing a photoshoot for the magazine in Los Angeles, along with stylist Tang Yi and photographer Feng Hai.
Jin Jing, an editor at ELLE, confirmed Zhang's comeback on her Weibo account: "She is so great. It's as if she were a teenager again!" Xiao Xue, the editor-in-chief retweeted the post, saying, "A woman is particularly beautiful when she is a mother, stunning time and our lens with her beauty."
In a group photo, Zhang sat with crew members and her stepdaughter, whose biological mother Ge Huijie was reportedly arrested for using drugs in Beijing.
Zhang posted a photo on July 22 showing herself playing guitar to her own daughter at home.
After falling in love and constantly being put in the headlines for a year due to the relationship, Zhang Ziyi and rock singer Wang Feng got married in May 2015. She then gave birth to a baby girl named Xing Xing on Dec 27, 2015.
Zhang Ziyi, the Chinese actress who became famous for her roles in "Crouching Tiger, Hidden Dragon," "Hero" and "The Grandmaster," is reportedly joining the J.J. Abrams produced sci-fi thriller "God Particle," along with David Oyelowo, Gugu Mbatha-Raw, Chris O'Dowd, Daniel Bruhl and Elizabeth Debicki. Julius Onah will direct the film. The film started filming in June and is scheduled for a February release in 2017.
Another film she starred in, Cheng Er's "The Wasted Times," which was shot before her pregnancy, will premiere at the Toronto International Film Festival (TIFF) in September and is set for a Christmas season release in China.