Fewer dusty days expected this spring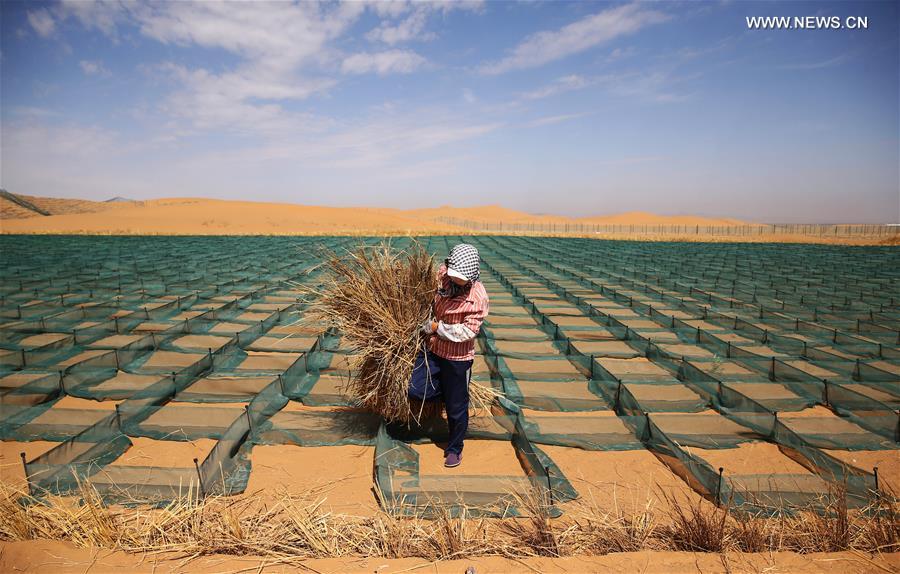 A desertification control worker makes straw checkerboard barriers in the Tengger Desert along the construction site of the Qingtongxia-Zhongwei section of the Wuhai-Maqin highway in Northwest China's Ningxia Hui autonomous region, Sept 7, 2020. [Photo/Xinhua]
Experts credit climate conditions, better environment in sandy areas
Cities in northern China are likely to see fewer sandy and dusty days this spring, forestry experts and meteorologists said recently.
Northern China could witness seven to 10 waves of sandy or dusty weather, down from an average of 12.5 between 1991 and 2020, the National Forestry and Grassland Administration and the National Meteorological Center said in a joint announcement. It said two to four major sandstorms were expected this spring.
Cities in the northern areas are likely to have four to six days of sandy weather, down from an average of 6.3 in the past decade.
The predictions were based on this year's climate conditions and the improved environment in sand source areas, the statement said.
Northern areas saw more precipitation last year, and the vegetation rate in sand source regions has increased in the past 20 years, according to the administration.
Forest coverage in sand source regions in the provinces of Shanxi and Shaanxi and the Inner Mongolia autonomous region rose from 10.59 percent in 2000 to 18.67 percent in 2020, while their comprehensive vegetation coverage increased from 39.8 percent to 45.5 percent.
That resulted in a significant improvement in the environment of the Beijing-Tianjin-Hebei province region. Beijing had just 177 days with fairly good air quality in 2000, but 288 last year.
Based on the administration's fifth national desertification survey, the area of desertified land was reduced by 12,120 square kilometers between 2009 and 2014, with sandy areas reduced by 9,902 sq km.
The sixth survey is about to finish, with results expected by the end of this year, according to Lin Qiong, an official from the administration's desertification prevention and control department.
"In the past 20 years, sandy areas and desertified areas have witnessed a reduction of about 2,000 sq km a year," Lin said. "And the current information we've collected shows that the two areas will continue to see a decline."
Through decades of persistent efforts, China's forest coverage rate has climbed from 12 percent in the 1980s to 23.04 percent.
Experts from the two departments said the prediction of sand and dust storms faces many uncertainties, such as the continuously changing climate. The two departments will maintain regular surveillance and keep updating the forecast.
(Editor:Wang Su)